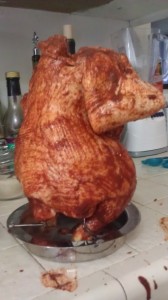 This is my experimental attempt to duplicate the recipe of my favorite Mexican-style roast chicken restaurant El Toro Bravo on 19th Street in Costa Mesa.
Latest ingredient list as of 2.3.13:
juice of one medium lemon, seeds removed
2 tsp. ground garlic
1 tsp. ground oregano
2 tsp. pasilla chile powder
1 tsp. paprika
3 tsp. Chef Merito Sazonador para Carne
1 tsp. salt
I brushed this on one large chicken and put it in at 350 degrees.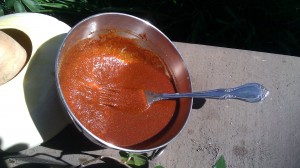 Completed Chicken