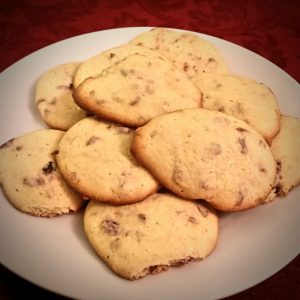 This is a variation on a recipe that used to appear on the Sunmade Currants box. I found a similar recipe and updated it with what I had on hand, ie. oranges and dried, sweetened cranberries. They came out very good.
1/2 cup (1 stick) unsalted butter, softened (I used salted and they were fine)
1 cup sugar
1/4 cup sour cream
1 large egg
1 1/2 cups all-purpose flour
1/4 teaspoon baking powder
1/4 teaspoon salt
1/2 cup dried cranberries (cut them up small!)
1 tablespoon grated orange zest
1 tablespoon lemon juice
Preheat oven to 350 degrees. Cover two baking sheets with parchment paper. Combine the butter and sugar in a mixing bowl; beat until light and fluffy. Beat in sour cream and egg.
In a separate bowl, whisk together the flour, baking powder, and salt. Gradually beat the dry ingredients into the butter mixture until they are well combined. Stir in cranberries, orange zest,  and lemon juice.
Drop heaping teaspoonfuls of dough about 1 1/2 inches apart onto prepared baking sheets. Bake until cookies are puffed and golden around the edges, about 20 minutes. Let cool 5 minutes on baking sheets before transferring cookies to wire racks to cool completely.
Update: I did a modified version of this with 1/4 tsp. cinnamon, 1/8 tsp. of cloves and 1/8 tsp. nutmeg. Very favorable addition. Next time I will try adding crushed pecan pieces.