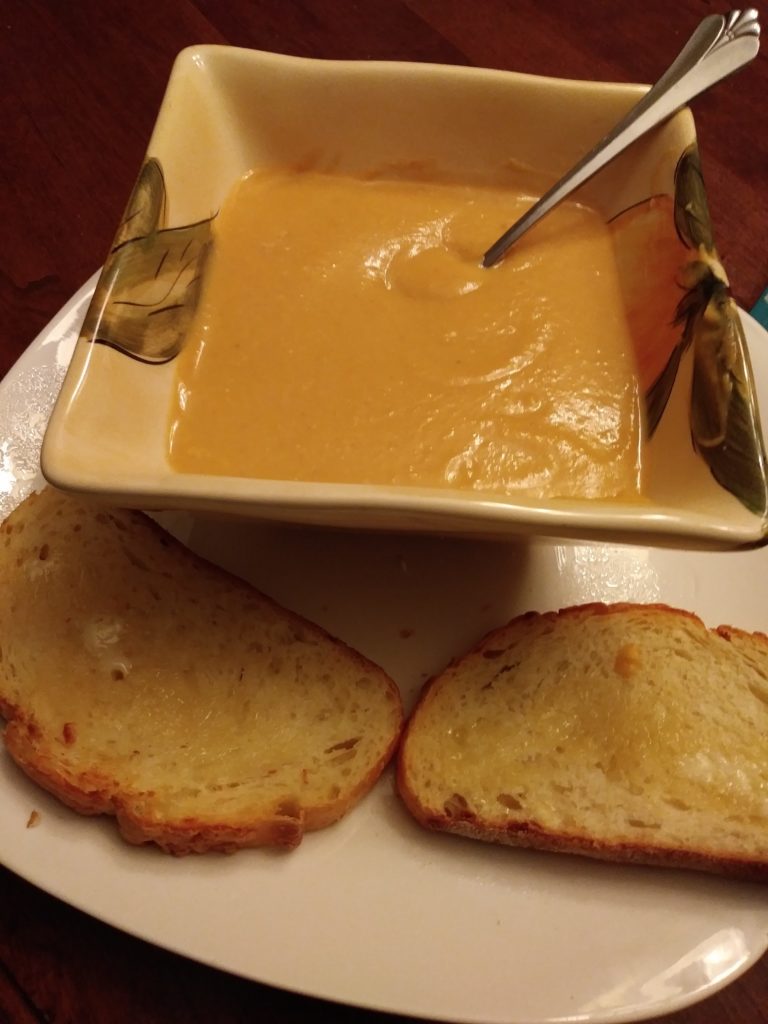 This recipe can be doubled for a crowd and just gets better with time. Make it a day or two ahead of your next party. Can be made vegan by substituting vegetable stock instead of chicken stock.
~4 lb. butternut squash (weight in store not after prep)
2 T. olive oil
1 medium yellow onion – chopped
1 can (13.5 oz coconut milk)*
2 t. Minced garlic
4 heaping T. creamy peanut butter (Adam's all natural is full flavored)
4 cups chicken stock (= one 32 oz. carton at the store)
2 t. Salt
1 t. Ground cumin
1 t. Ginger powder
1 t. Ground coriander
1 t. Smoked paprika
¼ t. Ground cloves
Directions
Cut the squash in half lengthwise and scoop out the seeds.
Turn face-down into a 9″ x 13" baking dish and bake at 350 for 1 hour, 15 minutes until a fork easily pierces the skin. While squash bakes, you can make proceed with step 3.
Heat olive oil in large stock pot and add chopped onions, then caramelize the onions on low-medium for 15 minutes (keep covered and stir occasionally).
During the last 2 minutes, stir in the garlic and spices with the onions.
Remove from heat.
Remove squash from oven and allow to cool 1 hour or until you can handle it comfortably.
Working in batches, scoop squash from the skin with a spoon and transfer it to a blender.
Fill blender halfway and pour stock over squash to cover and then blend until smooth.
Keep repeating this process and add the onions and garlic mixture to blender as well.
Pour the blended squash back into the stock pot and add the can of coconut milk. If your blender needs a little more liquid, you can mix the coconut milk in with the squash as you're blending to keep the mixture moving (it will be pretty thick!)
Reheat blended soup on medium and stir in the peanut butter until smooth and incorporated.
Serve soup with crusty artisan bread like a harvest loaf or your favorite kind.
Optional: garnish with a dollop of sour cream and chopped fresh cilantro
* You'll want the rich kind of coconut milk (not lite version) with the thick coconut cream on top.
I like the one from Trader Joe's. Chaokoh brand is also excellent. Enjoy ?