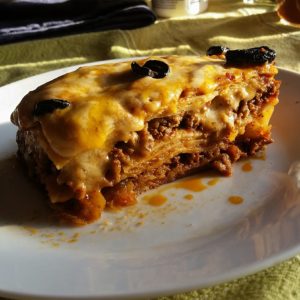 This is a recipe we grew up with as kids. Our Mom, Ann Barczay Sloan, used to cook this. I went ahead and made my own version but while she was living with me, before she passed away, I asked her for HER recollection of the recipe. I present both, you can try both, hers is probably faster. I think mine is pretty rockin', too.
Mom's Tamale Pie
Chili – can or scratch
Layer or two of corn tortillas in casserole
Layer on chili
Layer sharp cheddar
Layer green onions
Keep layering to top
Add water to the last bit of chili so it is like a soup. This will soak the layers
Top w cheese and sliced olives
Bake covered at 350. Uncover last few minutes to crisp.
Sean's Tamale Pie
Ingredients:
One large yellow or brown onion diced
2 tbsp. Olive oil (or 1 ea. Olive oil and bacon grease)
1-½ lbs. Ground turkey
1 tbsp. Oregano
1 tsp. Cumin
4 tbsp. jarred red salsa, medium hot
Black olives
2 cups 3-cheese shredded Mexican blend cheese
15 corn tortillas
1 can of enchilada sauce 19 oz. (example but in a bigger can size)
Cooking:
I like to brown the onions in pan, Salt and pepper to taste and then set them aside
Now brown turkey in the same pan with a little more olive oil as turkey can be very low fat and stick to the pan. Salt and pepper to taste.
Add back the onions and mix well to spread the flavors around
I like to grind the Mexican oregano (slightly stronger smelling and more like
whole flowers than standard oregano) between my palms and into the pan.
Sprinkle cumin on.
Add the salsa, not too much, its meant to be edible by kids and people who can't handle spice
In your baking dish: start by pouring out a thin layer of the enchilada sauce then add a layer of tortillas followed by a layer of the spiced meat and onions mix followed by most of the cheese
Next layer starts with tortillas then enchilada sauce, spiced meat and onion mix then cheese
Final layer, the top most layer, is tortillas, the enchilada sauce then cheese then decorate with a freshly sliced olives placed around evenly. Sometimes it put a sprinkle of chili powder lightly across the top.
Bake at 350 degrees for 30 minutes, remove from oven and let it cool/set up a bit before serving.
This dish is even better the next day as all the flavors have melded, the enchilada sauce has been incorporated into the tortillas and it reheats amazingly well in the microwave