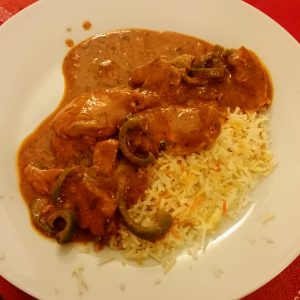 This is a great, mildly spicy dish depending upon the close adherence to using LESS chili powder and mild Anaheim chiles. Stray away from this at the risk of your taste buds.
3 tbsp. tomato paste
2 tbsp Greek-style yogurt
1.5 tsp. Garam Masala (a mix your can buy)
1 tsp. chili powder (insane, use ONLY 1/4 tsp.)
1 tsp. garlic pulp
2 tbsp. mango chutney
4 tbsp. oil
1.5 lb. chicken
2/3 cup water
2 fresh green chilies, chopped (use Anaheims, mild enough to eat)
2 tbsp. cilantro
2 tbsp. light cream (use half and half)
Blend together the tomato puree, yogurt, garam masala, chili powder, garlic, mango chutney, salt in a medium mixing bowl.
Heat oil in a deep round bottomed frying pan (we use American wok, teflon w/ handle)
Add chicken pieces stir until coated; add water to thin the sauce slightly; continue cooking for 5 – 7 minutes or until chicken is tender (don't overcook, undercook and let heat continue to cook, sauce super-retains heat).
Lower heat slightly and pour spice mix in bring to boil for about 2 minutes, stirring occasionally (important to cook/meld flavors here)
Finally add the fresh chilies, cilantro and cream for a further 2 minutes until the chicken is cooked through.
Serve with Basmati rice and naan if you can find it. Trader Joe's has a great frozen naan that heats in your toaster oven.