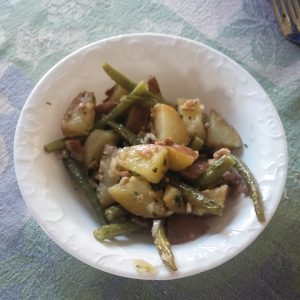 This recipe is still in the refinement phase which means that I may come back and adjust the amounts slightly in order to "perfect" it. Please check back as I like to try things out multiple times before calling them done.
2 lb. red skinned potatoes, cut into quarters lengthwise  and the cut across to make wedges. Don't over cook, keep them al dente!
2 lb. green beans, ends trimmed, steamed
3 good sized shallots, minced fine
1 lb. bacon (I just tried this new California bacon with no nitrites and was very happy with the flavor and quality)
1/8 cup white vinegar
3 tsp. sugar
3 tbsp. finely chopped parsley
3 tbsp. olive oil
Salt and pepper to taste
I cook the bacon, potatoes and green beans ahead. I have them in a large shallow baking dish in the oven to keep them warm while I prepare the dressing. The shallots go in the pan with the olive oil. Once the shallots are cooked clear on a medium heat add the vinegar then sugar. Pull the pan out of the oven add the dressing and mix thoroughly. Salt and pepper to taste. Cut the bacon into good sized chunks so it retains its flavor next to the dressing and only add it just before serving, same with the parsley.