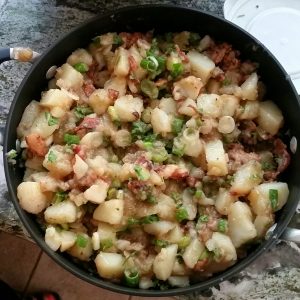 This recipe is a combination of one found in Luchow's German Cookbook, aka Speck Salat, and suggestions from my dear mother from her own recipe. The version in Luchow's is a bit on the extreme/ridiculous side of things as when scaling up for more than 2 servings (to say enough to feed my family, ie. 5 lbs.) it would require 30 pieces of bacon.
One thing to keep in mind is that this dish is most impressive when served fresh and hot with all the ingredients mixed together at the last minute. That having been said it stores and reheats well.
*read entire recipe including notes before beginning.
Ingredients:
5 lbs. red skinned potatoes (russets won't retain their firmness)
2 medium onions, diced
1-1/2 lb. bacon ends and pieces
4 cups white vinegar
3 cups beef stock made from bouillon
4 tsp. sugar
4 tsp. salt
1 tsp. black pepper
1-1/2 cup green onions, sliced along length into tiny rings
1/2 parsley
Steps:
Boil potatoes keeping a close eye on them so that they don't get too soft. The skins splitting is a sign that they need to be checked but I start checking after 20 minutes with a fork just to keep a handle on things. When the potatoes are done drain and set aside to cool. When cool enough to handle the skins will slide off when squeezed with a small amount of clean up here and there with a paring knife.
While the potatoes are cooking render off the bacon draining it periodically to save the bacon grease for future use. Once the bacon is nice and crisp and brown set it aside. Leave the bacon grease in the pan.
Cook off the onions in the bacon grease until they are clear.
Add the vinegar, beef bouillon
Add back bacon grease to get a nice balance between the vinegar, sugar and bacon flavors
Add salt, pepper to taste
All ingredients in the dressing should be done to taste! You'll want to experiment!
Right before serving mix firs the dressing mixture and lastly the green onions and parsley to the salad and serve.
***NOTE: we ended up with a sizable amount of the dressing left. If we used it all the it would be too much liquid versus the amount of potatoes. We used it for a hot bacon dressing on spinach salad!