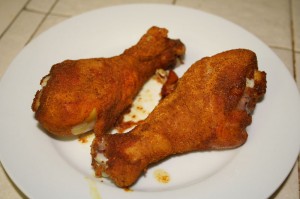 1-1/2 lbs. fresh chicken, rinsed and dried
1 teaspoon ginger
1 teaspoon cumin
1 teaspoon coriander
1 teaspoon paprika
1 teaspoon turmeric
1 teaspoon salt
1/4 teaspoon cayenne
1/2 teaspoon sugar
I wash and dry the chicken so that it is room temperature and the skin is not too wet.
I double the recipe because we almost always make more chicken for future meals and it reheats very nicely
***Note: original recipe calls for 1 tsp. cayenne. That amount of cayenne/chili will be WAY TOO MUCH. I use a solid 1/4 tsp. when I double the recipe and DJ can still eat it and he is only just getting used to spicy food.
I add a small amount of sugar, like half the amount of a single spice so if you're double the recipe I would add 1 tsp. of sugar. It makes the spice rub become a little like a glaze and its not too sweet.
I start the oven at 400 degrees and then at 20 minutes I turn it down to 350 for the last 10 minutes. I don't know what I'm doing, actually, but I tell myself that I'm, at first, searing/sealing in the juices and, secondly, then not drying it out by cooking too long.
We like to use this recipe on chicken wings: they are cheap and yummy. Enjoy yourselves!
The original recipe/instructions came from here: http://www.indiasnacks.com/recipe/811/Tandoori-Spice-Rub.php