This recipe was contributed by Maria Tsagrinos in honor of her father.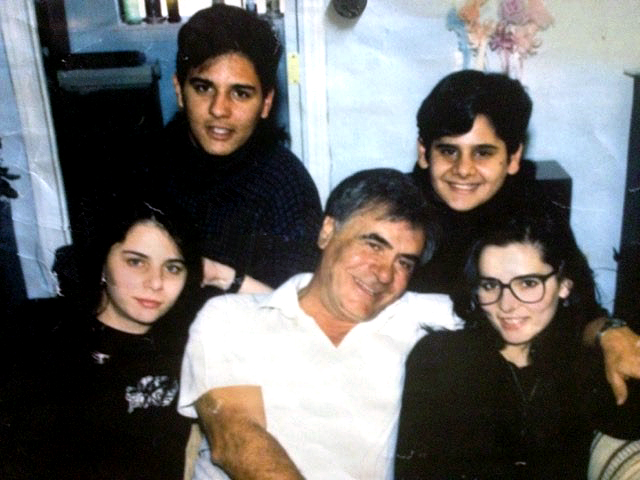 Meat Sauce Ingredients
½ stick butter
1 tbsp olive oil
6 cloves garlic
1 lg. yellow onion, finely chopped
2 sticks cinnamon
1 tbsp. oregano
salt
1 cup red wine
1 small can tomato paste
1 carton basil
2 lbs. ground beef
1 pkg. sage pork sausage
1 lg. can (1lb.) tomato sauce
2 reg. cans sliced, stewed tomatoes, Italian Style
½ clove nutmeg, grated
2-3 bay leaves
Preparation: Meat Sauce
Mix red wine and tomato paste in a small bowl or cup, set aside.
In large saucepan, heat oil/butter.
Add onions, sauté until translucent.
Add garlic, oregano, meat, and salt to taste. Brown the meat, slowly adding small portions of the **tomato paste/wine mixture throughout browning process.
**Add SLOWLY so as not to cool temperature of browning ingredients drastically.
Add stewed tomatoes, tomato sauce, chopped basil, bay leaves, nutmeg, and cinnamon. Turn down heat, and let sauce simmer for one hour.
Bechamel Sauce
Ingredients:
1 stick unsalted butter
½ cup and 2 tbsp flour
1 qt. whole milk, room temperature
1 pinch fresh nutmeg
salt, pepper to taste
1 cup grated parmesan
Bechamel Preparation:
In saucepan, melt butter on medium heat.
Add flour, whisk until smooth (about 2 minutes).
While stirring continuously, add milk **gradually until all gone.
Whisk well until smooth.
Simmer until mixture is thick enough to coat the back of a spoon (about 10 mins.)
Remove from heat.
Stir in nutmeg, cheese, salt, and pepper.
Preparing Pastitsio
Additional Ingredients:
1 lb. penne
1 ¼ cup fresh grated parmesan or kefalotiri
1 Pinch each of cinnamon and nutmeg (optional)
2 tbsp. olive oil
While the meat sauce is simmering, prepare the pasta. Cook until slightly underdone, remove, drain, toss with a couple of tablespoons of olive oil to prevent sticking, and set aside.
Preheat oven to 350 F.
In an 11x15x3-inch baking pan, add 1/2 the pasta for the first layer and sprinkle with 1/2 cup of the grated cheese. Add the meat sauce evenly over the pasta, and sprinkle with 1/2 cup of the grated cheese. Add the remaining pasta on top. Carefully pour the béchamel evenly over the top.
Bake at 350F (160C) for 30 minutes, then sprinkle the remaining 1/4 cup of grated cheese and nutmeg / cinnamon (optional) on top, and continue to bake for another 15 to 30 minutes until the sauce rises and turns golden brown.
Remove from oven, cool for 20 minutes. Cut, and serve.