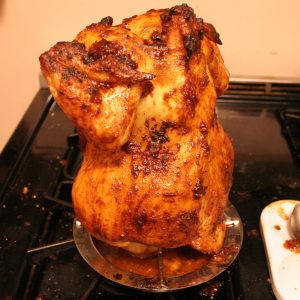 Quick ingredients list:
1/4 cup olive oil
Juice of 2 small limes
2 tsp. powdered garlic
2 tblsp. Chef Merito Steak and Meat Seasoning (image coming)
one whole chicken, washed in warm water and dried with paper towel
2 chipotle peppers in adobo sauce, cut into small pieces
2 tblsp. brown sugar
I like to fill the chicken with warm water and let it sit in there for 30 seconds and I do this twice while washing the chicken in order to try to warm it up to room temperature before cooking.
In a metal bowl I added the oil, Chef Merito Steak and Meat Seasoning, lime juice, garlic and cut up chipotles. This is the marinade that I coat it with.
So I hold the chicken upside down and pour in ALL of the marinade mix to the main body cavity while holding the neck cavity closed and swish it around the inside of the chicken to coat it. Then I pour it out into the bowl and coat the exterior of the chicken, on a vertical roaster, and paint it on with a brush for the first coat.
Cook for 30 minutes at 425 degrees, pull out and do the second coat of marinade, put back in for 15 more minutes but now at 375 degrees. Now take it out again (after the 15 minutes), add 2 tblsp. brown sugar and some of the drippings from the catch pan of the vertical roaster to what remains of the marinade and do the glazing stage for the final 15 minutes.
Next time I'm going to add Mexican oregano and ground cumin. My goal is to match (or surpass!?!) the chicken from El Toro Bravo here in Costa Mesa.
*Here's another one of my attempts to match the fabulous chicken from El Toro Bravo.