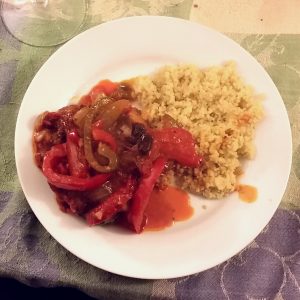 I struggled for a name for this dish and settled on this as the most accurate. It mixes European (Italian, Hungarian) and North African (Tunisian) flavors. It's easy to make and really reheats well.
Ingredients:
2 tbsp. olive oil
10 Chicken thighs
One large yellow onion, diced
2 bell peppers, one red, one green, deseeded and sliced longitudinally
1 tbsp. freshly chopped garlic
2 tbsp. white balsamic vinegar
1/2 cup raisins
one bottle Classico Roasted Garlic tomato sauce
2 tbsp. harissa (I found mine at Trader Joe's. Add more if you want it hotter)
1 cup sliced mushrooms
Pre-heat oven to 425 degrees. I have a large ceramic coated metal roasting pan that's shallow. On the stovetop I add the oil oil and then brown the chicken on a low flame because I want to get them nicely cooked before I put them in the oven. After you've flipped and browned the 2nd side of the chicken start adding the vegetables, you might boost the flame a little. I go onions, then bell peppers, then garlic, the raisins, then balsamic vinegar, then tomato sauce, then harissa. The mushrooms I stir in right before moving the dish to the oven for 20 – 25 minutes to finish it off.
I served mine with pine nut couscous but it would go great with linguini or other pasta.
Notes: you could easily add more garlic! Tastes even better the next day, reheats well in the microwave.