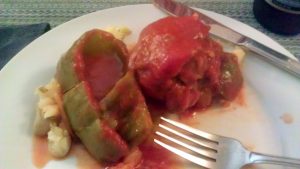 My Mom, Ann Barczay Sloan, shared this recipe with me.
Ingredients:
6 bell peppers (green, red, a mix, all OK)
1 lb. ground beef
1/4 tsp. pepper
1/4 tsp. salt
1-1/2 tsp. paprika
1/2 tsp. garlic powder
5 tblsp. cooked rice
3 tblsp. tomato sauce added to meat
1 can tomato sauce (minus the 3 tblsp. used above)
2 tsp. sugar (for sauce)
1 tsp. paprika (for sauce)
Pre-heat oven to 350 degrees. Mix the ground beef, pepper, salt, paprika, garlic powder, cooked rice and 3 tblsp. of tomato sauce in a mixing bowl. Cut the tops off of the pepper and clean out seeds and extra veins of white material to maximize the available room for stuffing.
Stuff all of your peppers and place in a baking dish.
In a sauce pan on the stove pour remaining tomato sauce, sugar and paprika and heat until very hot/steaming and then ladle or pour over the peppers carefully so that they are uniformly covered/coated.
About 15 minutes into the 30 minutes cooking time you can open the oven and baste the peppers using the sauce (see photo below) that's forming around them. Actually you could baste as many times as you'd like and they'll probably be even more delicious. These are done when the peppers are soft but still hold together.
NOTES: this can be served with boiled potatoes, the sauce goes great with them.