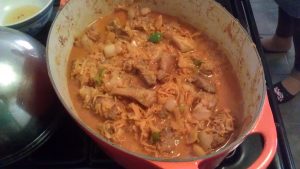 This recipe was shared with me by my Mom, Ann Barczay Sloan.
Ingredients:
Bacon grease
1 lg. yellow onion diced into 3/8″ cubes
1 lg. green bell pepper, de-seeded, cleaned and diced
1-1/2 lb. Pork shoulder cubed
4 cloves garlic, chopped
2 tsp. caraway seeds
3 bay leaves
Salt and Pepper to taste
Paprika (My Mom recommends Szeged brand, sweet, not hot.)
2 cans sauerkraut, drained
1/2 cup Sour Cream
Preheat oven to 350. Brown the pork in bacon grease, salt and pepper the meat then add in onions and bell peppers until onions are translucent. Add garlic and stir that until it is cooked. Add paprika to cover/color meat, its an eyeball thing. Truth be told its hard to add too much paprika. Add caraway seeds and bay leaves then add the sauerkraut. Bring to a low boil, cover it and cook for 5 minutes. Move to oven for 40 minutes. 10 minutes before the time is up stir in the sour cream. Serve with boiled potatoes.