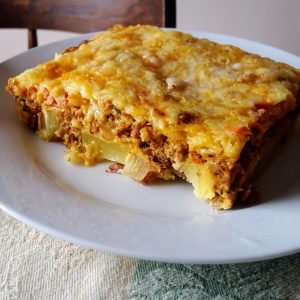 This is delicious and reheats in the microwave for a super-fast, very healthy breakfast, it's vegetarian!
4 medium potatoes, boiled and sliced into wedges
1/2 large onion diced
one package soyrizo
1 tsp. cumin
1 tsp. oregano (finely ground)
12  eggs
1/2 cup flour
1/4 cup milk
1 tsp. baking powder
4 heaping tbsp. chunky salsa (as spicy as you like)
2 tbsp. olive oil
8 oz. package of Mexican cheese blend
Pre-heat oven to 350 degrees. Sautee onion in olive oil until clear then add soyrizo, cumin and oregano and brown, set aside. In a bowl crack 12 eggs and whisk in baking powder, flour, milk and salsa.
Place potatoes evenly spread out in your shallow baking dish. Add chorizo and onion mix evenly across this. Put in 4 oz. of the cheese then add the egg mixture and top with the final 4 oz. of cheese. Bake for 30 minutes at 350 degrees.