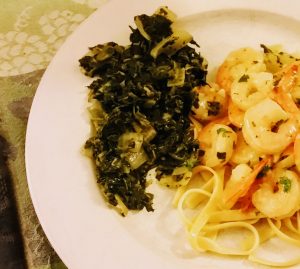 Simple, tasty recipe and a great way to prepare spinach or kale.
One bag frozen spinach
One yellow onion, diced
2 tbsp. olive oil
1 tbsp. white balsamic vinegar
pinch ground nutmeg
1/8 tsp. crushed red pepper
salt and black pepper to taste
if you have it – 1 tsp. bacon grease
Put half the olive oil in a sautee pan on medium low (and bacon grease if you have it) and cook the onions until clear, soft and sweet. Add the bag of frozen spinach and turn heat up to medium high to melt it. Once the spinach is no longer frozen add the remaining olive oil and turn heat down to just medium. Clear a place in the center of the pan, add the vinegar and then mix it all together along with the nutmeg and crushed red pepper. Salt and black pepper to taste.
Notes:
Olive oil can be increased by using your judgement. What I go for is just a hint of a sheen and a rich, savory taste.
Crushed red pepper: careful with this one, it can be over done, especially if you're cooking for children.
If you wanted to get really daring you could use more bacon grease, especially with kale.