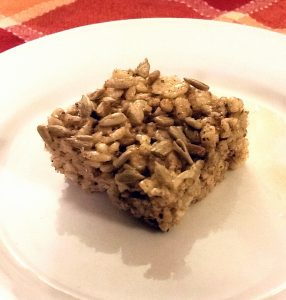 This one was a chance discovery because we had a bag of marshmallows that stuck together because of the humidity in the air by the beach where I live. We tried roasting them, it was a messy joke, so this idea came to me. The recipe is really tasty.
5 cups rice krispies
1/4 cup (half stick) butter
1 tbsp. coconut oil (heaping?!?)
1/2 cup almond meal
1/2 cup flax seed meal
2/3 cup roasted, salted sunflower seeds
What was already hard to stop eating just became IMPOSSIBLE… You might never go back to the original recipe.
The version pictured has additional ingredients added to the butter as it melts:
1/4 tsp. cinnamon
1/4 tsp. all spice
1/8 tsp. nutmeg