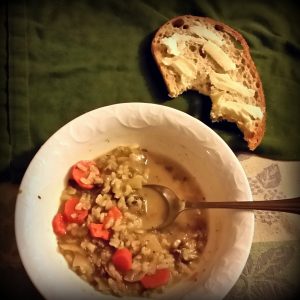 This batch of soup actually contains bones from chickens and turkeys that I collected over the recent months. I have about two freezer bags full of both bones and vegetable trimmings like celery and carrot ends, green onion ends and parsley stems. I try to squeeze the air out every time I reseal the bag to keep the ice buildup down as the air at the beach is moist.
I put them in a stock pot and cover them with water added very little salt and pepper and cook them for 24 hours. The next step is to pour off the broth through a colander and into a bowl so that all of the bone and vegetable mass is strained out. I do set aside the bone/vegetable leftovers taking out all of the large pieces and picking through the remaining meat to return to the stock.
I bring the stock back up to a boil and add the following chopped vegetables one and 1/2 onions, one bag of carrots, one entire head celery 1/3 of a bunch of parsley, choppped salt and pepper thyme and chicken bouillon to taste. On the side I cook four cups of brown jasmine rice separately and I only added 3 of the cups of cooked rice that at the very end before serving. Careful, the rice will soak up some liquid.
The turkey meat was very lean and there was not much fat so I added a small amount of olive oil. In addition I included 1/4 cup of malt vinegar to extend the flavor pallet. You always have to be careful with the amount of vinegar that you add to recipes, go slowly and taste frequently as you can't take it back out once its added.
You had better be prepared to either store a large amount of soup , give it away to friends and family, or have a large party.
1-1/2 large yellow onions chopped
1 bag carrots, peeled and cut into coins
1 head celery, sliced thin to cook quickly
3 cups brown jasmine rice, fully cooked
1 tbsp. dried thyme
5 tbsp. (heaping) of Knorr chicken bouillon
1 cup chopped fresh parsely
1/4 cup malt vinegar (could be apple cider vinegar as well)
Salt and pepper to taste