I ALWAYS make two of these at a time because the pie crusts are sold in a double pack. Plus, everyone loves this dish and one tart disappears too soon!
The original recipe calls for ricotta cheese but I find it's pricey and just as easy to use cottage cheese (one small container) and allow the whey to separate using a metal sieve one day ahead. The goal with draining off the whey is to make your tart have a firmer texture and not be at all runny or soft.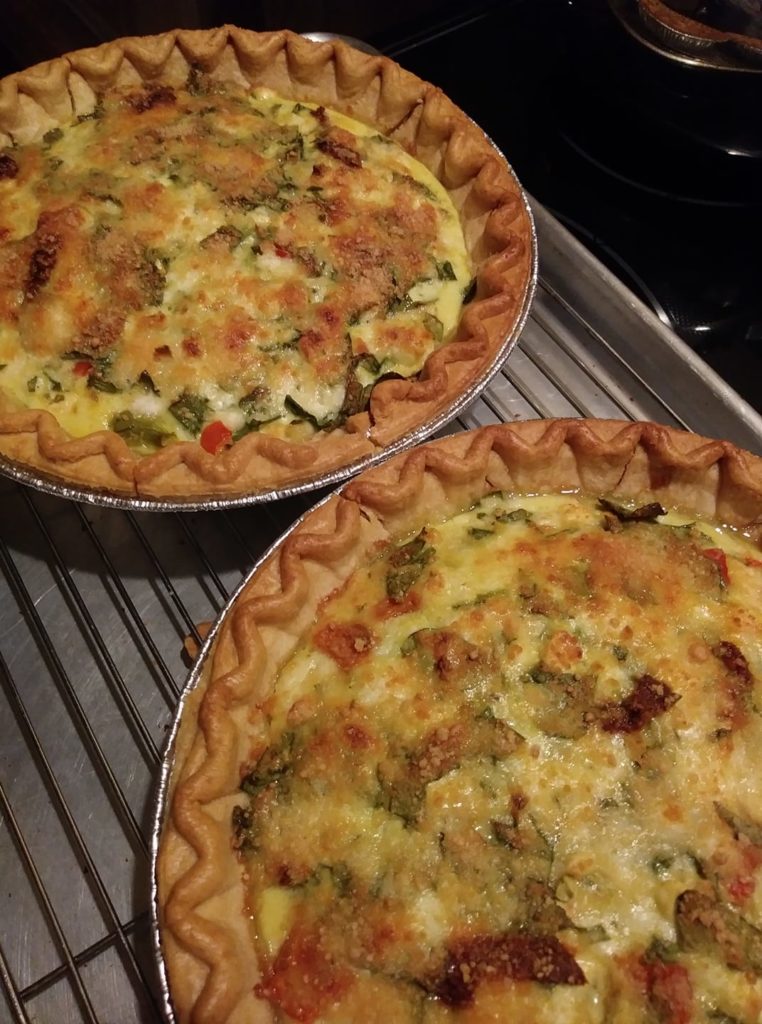 Ingredients (this makes two 9″ tarts)
Package of 2 frozen deep dish pie crusts
4 eggs lightly beaten
2 cups cottage cheese (drained in sieve for a day)
2 cups chopped fresh Spinach (baby variety, organic)
1 cup crumbed feta cheese (I choose one with herbs in it)
2 teaspoons herbs (use any combo of oregano, thyme, or savory herbs)
1 cup fresh veggies chopped (like red bell pepper, green onions, broccoli)
1/4 cup grated Parmesan cheese reserved for the top
Directions
Preheat oven to 400 degrees (F). Prick pie crusts with a fork to prevent bubbles. Bake crusts for 10 minutes then remove and cool. While crusts are baking, work on the filling.
Reduce oven to 350 after crusts come out of oven. Whisk the eggs gently, then mix in everything else in one bowl except the Parmesan.
Divide the filling between the two crusts. Finally, sprinkle the Parmesan cheese over the tops of each tart and return to oven for 45 minutes. A knife inserted into center should come out clean if the tart is fully cooked.
Serve warm with a green salad. Great to make ahead for potlucks. Delicious even at room temperature for a picnic or brunch. Experiment with ingredients based on what you have on hand.