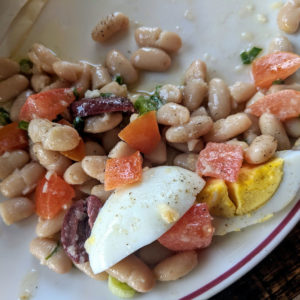 3 each – 15 ounce cans of beans (white, cannellini, garbanzo)
1/3 cup olive oil (more if you want more dressing)
1/3 cup green onion
3 tbsp. white wine vinegar (more if you want more dressing)
4 fat cloves of garlic finely minced
1/3 cup chopped parsley
1/2 cup chopped pepper (bell are good but you can use Anaheim and Passilla, yellow/Hungarian peppers)
1/2 cup chopped fresh tomatoes
1/4 cup sliced kalamata olives
1/4 cup sliced green olives stuffed with pimentos
1 tsp. coarse ground or stone ground dijon mustard
pepper to taste
Canned beans are usually salted so there's really not a need to add salt. You may want to adjust the amount of vegetables to suit your tastes.
Awesome as a side dish, it goes great on top of green salad as well. Super-healthy as people in Blue Zones eat 1 cup of beans a day.
***NOTE: served with lengthwise wedges of hard boiled eggs!!!! This salad is best if it sits overnight and the flavors meld together!